Gift Receipts
During Checkout, you may specify that your order is a gift.
Prices will not appear on the gift recipient's packing slip.
If the recipient returns or exchanges the merchandise to a retail store, the pricing information will be removed from the gift receipt.
Returning a gift?
Gift Box
If an item is eligible for gift wrapping, the option to add a gift box for $5.00 will appear in your shopping cart.
Gift Boxes are made of heavy gauge paperboard and arrive collapsed ready to be assembled with the item/s ordered.
Items shipped from or picked up in Vera Bradley store locations are not eligible for gift boxing.
Gift Boxes can only be shipped as part of an item purchase, gift boxes cannot be purchased individually for shipment.
GiftNow
GiftNow is a great gifting option for all occasions, birthdays, holidays or just because. GiftNow allows you to send that special gift instantly! Learn more about GiftNow
Look for the GiftNow button on our product pages to begin.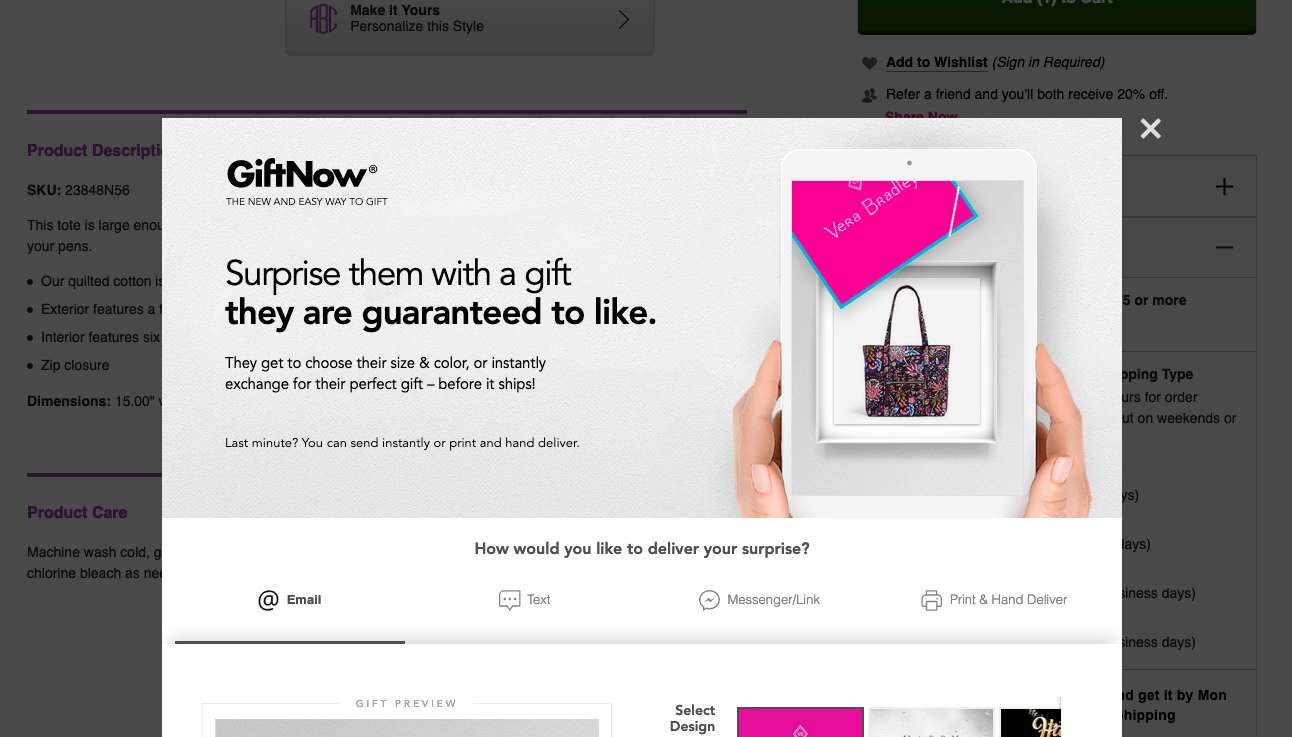 GiftNow Help
Redeeming an Electronic Gift Card
You will be prompted to enter your gift code on the "Order Review & Payment" at the end of Checkout. For more information visit the Orders and Payment section of our Frequently Asked Questions page.
Gift Card Terms and Conditions
Gift Cards and Electronic Gift Cards can only be redeemed at verabradley.com or in Vera Bradley stores.
If the balance of the Gift Card or the Electronic Gift Card is greater than the order total, the amount of the order total will be deducted from the Gift Card or Electronic Gift card upon final purchase and remaining dollars will be available for future use.
If the balance of the Gift Card or the Electronic Gift Card is less than the order total, the balance will be applied to the order and a second method of payment will be due. Online methods of payment accepted are as follows: Visa, MasterCard, Discover and American Express. For in-store purchases cash and personal checks are accepted in conjunction with the aforementioned electronic payment methods.
When a Gift Card balance reaches $0 the Gift Card can either be reloaded and reused at a later date or discarded.
Gift Cards and Electronic Gift Cards are non-transferable, non-refundable and are not redeemable for cash.
Lost or stolen Gift Cards and Electronic Gift Cards can only be replaced with proof of purchase.
Gift Card and Electronic Gift Card purchases will be charged applicable sales tax.
Gift Cards and Electronic Gift Cards may not be returned, applied to previously purchased merchandise or used to buy another Gift Card.