Skip to Main Content
Customize the Iconic Vera Tote
Let's begin! Choose from one of our starting points below — with options in cotton, microfiber, and denim.
Capri Melon Palette
This sweet favorite features a pretty pink paisley on a rose bloom ground with pops of vibrant color and river blue throughout. First introduced in 2007, we love it for its bright, so very happy hues. Pair it with its coordinating pattern, colorful Capri Melon Tiles, or complementary solid hues like Rose Bloom and River Blue microfiber or Denim Navy.
Bluebird Palette
We went way back in our print archives to bring back this beloved beauty. Originally introduced in 1998, colorful Bluebird features a dark cornflower blue ground with winding ivy, sweet little birds and favorite flowers sprinkled across. We love its complementary pattern, Bluebird Dots, just as much. Both look particularly pretty paired with Dark Cornflower Blue and Ivy Green microfiber or Denim Navy.
Pretty Posies Palette
This newer pattern has already stolen our hearts with its bright blooms and goes-with-everything slate gray ground. This pretty print has a special meaning, too; it's our newest Vera Bradley Foundation for Breast Cancer pattern. Look for the tiny pink ribbons scattered throughout. Pair it with its complementary print, Posies Medallions, or mix and match with standout solids like Phantom Gray and Rose Bloom microfiber or Denim Navy.
Java Blue Palette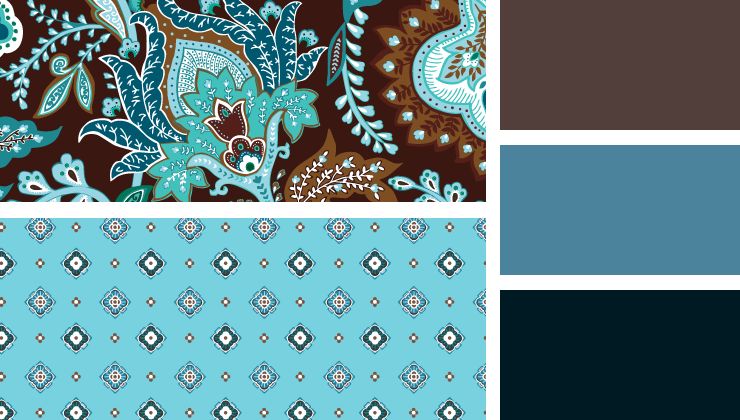 One of our most popular and best-selling prints ever, Java Blue was first introduced in 2006. Then, and now, we can't get enough of its year-round appeal and classic turquoise and chocolate brown color combo. Its complementary pattern, Java Blue Foulard, is just as lovely. Both pair well with Chocolate and Caneel Bay Blue microfiber and Denim Navy!
Java Purple Palette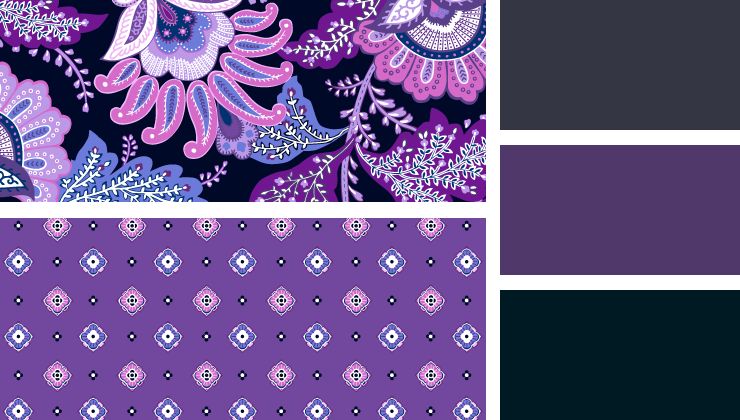 A passion for paisley and purple is stitched into our DNA. This spirited take on our beloved Java Blue makes its debut with an energetic palette that's on point for your evening looks or carpools and commuting. Its deep purple background pairs perfectly with Elderberry and Classic Navy microfiber. Another combination we can't get enough of is Java Purple Foulard and versatile Denim Navy.
Happy Snails Palette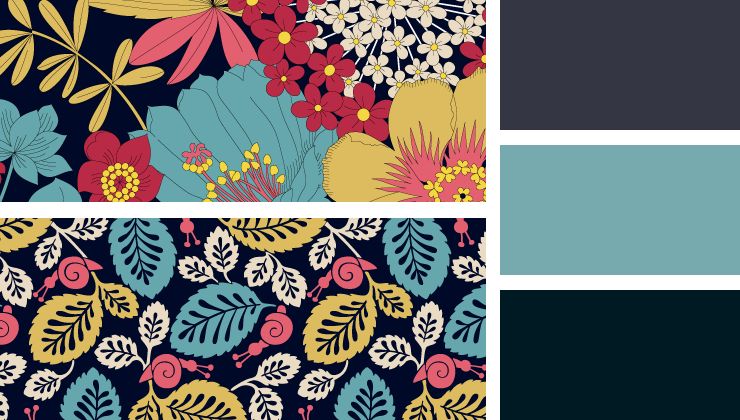 A fan favorite in 2011, Happy Snails has been waiting for its comeback and a chance to liven up wardrobes once again. A unique color play of warm earthy neutrals and vibrant jewel tones, this cheery print pairs beautifully with denim — your favorite pair and our Denim Navy. With its deep midnight background and tonal floral palette featuring turquoise, ocher and scarlet, it makes a stunning statement combined with Pastel Turquoise and Classic Navy microfiber. And don't forget Happy Snails Ditsy!
Cheerful Snails Palette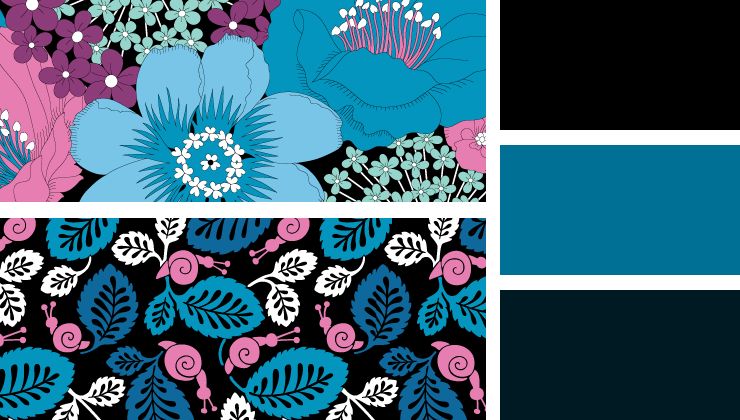 Blue lovers: this one's for you! A decidedly cool-tone take on our beloved Happy Snails, Cheerful Snails snaps to attention in a festive palette of turquoise, teal and berry garden flowers on a faded blue background. We especially like this pattern paired with Bahama Bay Blue, Classic Navy microfiber or versatile Denim Navy. Its counterpart Cheerful Snails Ditsy, with deep turquoise leaves and petite pink snails, delivers the same graphic punch but in a quieter pattern.
Vines Floral Palette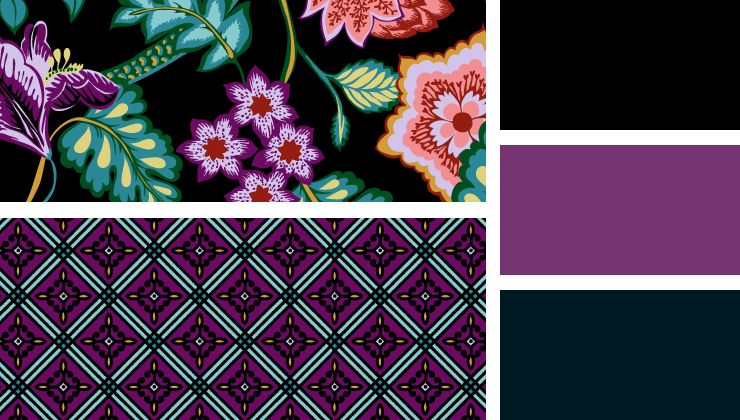 A striking botanical print with a tropical twist, Vines Floral adds polish to all your looks. We love it as a graphic complement to neutral, go-with-everything Classic Black and Hollyhock Berry microfiber colors. For a quieter statement that's just as classic and fun, Vines Floral Tiles in cotton, combined with our best-selling Denim Navy, makes a head-turning pairing.
Charcoal Medallion Palette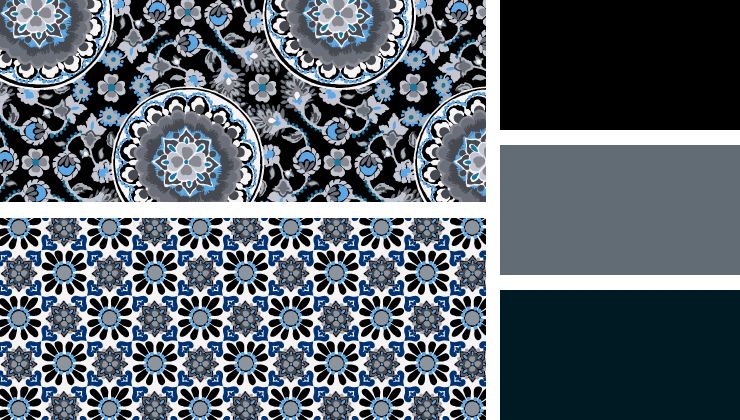 A timeless medallion print designed to go everywhere and with everything, you'll love this understated palette. The soft tonal grays on a solid black background combine to create a look that's neutral and sophisticated. Creating your own design is easy — we like mixing and matching Charcoal Medallion and Charcoal Foulard with Classic Black and Granite Gray microfiber. Another winning partnership is Charcoal Medallion or Charcoal Foulard with Denim Navy.